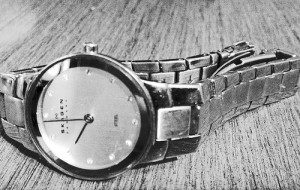 I was inspired by something my husband said the other day. Someone at work asked him why he still wears a watch. In the day of smartphones, it seems that watch-wearing is dwindling. His response was that he wanted to stay present for those around him. (Have I mentioned how much I love this man?) There are many things I love about this concept of using a watch to stay present but what struck me most was how the word watch can be used as a noun (wristwatch, stopwatch, pocket-watch) or a verb (to view or observe in order to see or learn something; to view with interest; to contemplate or regard mentally)…

If you look around in a meeting or gathering of any sort, you are sure to see people who are locked in to their phones or other devices only half-listening to the conversation. If you watch teens at the mall, you are certain to see a zombie-like crowd of heads pointed down: compulsive texters. If you look around at the doctor, dentist or even while you are waiting for a table at a restaurant, everyone is plugged in. It's difficult to comprehend what this is doing to productivity, engagement, relationships, and society.
When we glance at our phones to look at the time, the entire world instantly becomes available to us. We rarely just check the time. We quickly click on our email, Facebook, the weather and other favorite apps. The data is staggering. According to information collected by Android app Locket, which monitored how many times its 150,000 users checked their phone over in a day, they found that the average user checks their phone 110 times each day. And this is just the average….during peak times this equates to once every six or seven seconds, with some users unlocking their devices up to 900 times over the course of a day.
Although 110 times a day seems a high figure, other research suggests it may be even higher. A study by Kleiner Perkins Caufield and Byers found the average user checks their phone nearer to 150 times per day. Their annual Internet Trends report, carried out in May this year, found that people check their phones, on average, 23 times a day for messaging, 22 times for voice calls and 18 times to get the time. This does not include photo taking and sharing, the use of the alarm, social media, maps, shopping apps, music, ibooks, games and more.
While smartphones have become somewhat of a staple for many, a mode of convenience for others and a cultural status symbol for some, there is concern that they may be eroding our personal and professional relationships.
I've recently been reading and hearing about people who are recognizing this trend and are frightened by their own behaviors with technology. As leaders, parents and friends we want to be engaged with those in our lives. I've had friends shut down their Facebook accounts, others limit their usage and one blogger that I love to follow actually took a 40 day fast from the internet because she recognized some compulsive tendencies creeping in and wanted to reconnect fully with her real life.
I am right up there with the best of them in checking my phone, keeping up with social media and staying plugged in.  I realized that it's gotten to the point where I actually pick up my phone, type in the password and check things reflexively without my brain ever engaging with my fingers. It is time for a change…to set some boundaries and seek a bit more balance. I need to spend some time thinking about what this will look like for me because as a stay at home mom, the internet, social media and my phone are methods to connect…and I need that. There is a balance to be achieved and I'll be spending some intentional time thinking about what make sense for me.
In the meantime, though…I will definitely start wearing my watch. Because, after all, a watch is just a watch and not a portal to the entire universe.
How about you? Have you set boundaries with your phone and technology? I'd love to hear about them.    
Photo credit: Susan Sharpless Smith / Foter.com / CC BY-NC-ND