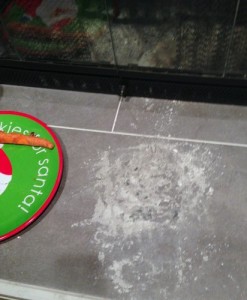 This year is the year that we almost blew Santa's cover. On Christmas Eve, our eight year old began to ask some emotionally charged questions about whether or not Santa is real.
"What do you think?," we asked. He proceeded to say that there are several children in his class who claim that the man in the big red suit is not real and that it is, in fact, your parents who put all of the gifts under the tree. "That sounds like an awful lot of work for parents," I half-joked. "The important thing is what you believe," I continued. That seemed to satiate him. Phew, I thought. Crisis averted.
Dad announced that his special message from Santa had arrived and we watched the Portable North Pole Video which was fully believable with a photo of our son, Santa acknowledging him by name as well as what he wanted for Christmas AND what he was working on this year (you can get much more if you pay). During the moment when the naughty-nice list meter veered towards nice, Ash had noticeably less excitement than in years past.
As we set out the cookies and milk for Santa (and carrots for Rudolph and the other reindeer), Ash pulled out a very well thought out note for Santa which requested proof from Santa that he is, in fact, real.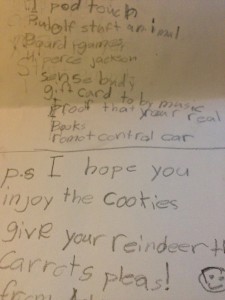 My heart ached a bit, but are you kidding me? (I mean, on one hand, I admired my son's thorough inquiry and my heart was breaking a bit that the magic of Santa might be dying but on the other…well, are you kidding me?) Is moving the blasted Elf On The Shelf every. single. night. for the month of December not enough?
As I tucked him in, I was imagining visions of sugar plums dancing in his head and then it happened: I noticed that was crying. Heartbroken, I asked a few questions. "What about the video from Santa?, " I asked. He sniffed, "It looked like it was made by a company! Someone could have made it and sent it to me." When I asked him who might do that, he said, "I don't know, it could have been anybody!" I asked him if he wanted to watch it again. And he did. So we pitter-pattered down the hall, and down the stairs to watch it one more time. Then we watched the NORAD Santa Tracker and every supportive video that they offered on their Santa tracking technologies. He was satisfied. Phew! Again.
On Christmas morning, when he came downstairs, he had the enthusiasm of his last year (seven-year old) self. He did inspect the cookie crumbs, carrot nub and ashes from the fireplace that were on the hearth. (Side note: as evidenced in the photo at the top, we upgraded to real ashes from the fireplace rather than our typical flour footprint this year because we had a feeling that the flour-AKA magic dust-wasn't going to cut it).  He paid much more attention to the handwriting on the gift labels and to who they were from. And then it happened…he recognized a gift that was labeled to my younger son "From: Santa" as one that he had previously seen in the house. "Doh!", I yelled loudly in my own head. We all looked at each other in a puzzled fashion and it was quickly brushed over by all. But friends, I fear this may be the last year my son is a believer in Santa…at least in the way he has in the past.
I'll have to put some thought into how I'll answer the question the next time he asks me if Santa is real. If you Google it, you are guaranteed to find vastly opposing theories ranging from "Why Santa Claus Hurts Christmas" and "Why Lying to Kids about Santa is Destroying the Foundation of Their Future Reality"…to "How to Keep the Magic of Santa Claus Alive as Long as Possible" and "Why Make Believe Fosters Innovation and Creativity."
I could always get him this sign from SaltBoxSigns on Etsy…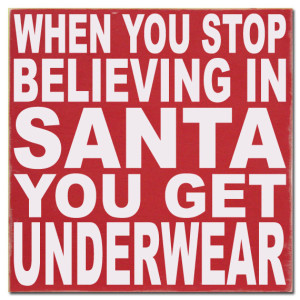 But the truth is that I love the magic of Santa and the season and think I will likely pull some pieces from this well-thought out letter. (Although this letter is posted in many locations, I do not know the original author to credit them.)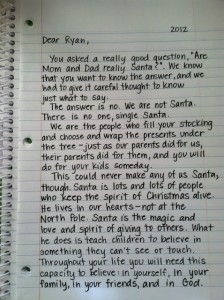 I do know that I love these little tender-hearted kiddos with every fiber of my being and want to guide them in a direction that will help them love life and grow into who they are meant to be. And that includes how to handle these ever-so-important discussions about the man in the big red suit.
When and how have your kids found out about Santa Claus?  What did you say? Was it as bad as I think it will be?