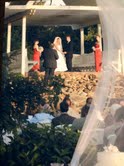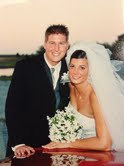 This week it's been ten years since we said "I do". On our wedding day many important sentiments were pledged despite the fact that as I now look for our vows I cannot find them (yikes!). In this decade of marriage we have endured tragedies, loss, illness, heartache, hurt, deceit, and have neared defeat. It seems, though, that our hearts and this universe have always known what our brains could not comprehend –that we are meant to be together- and for that I will be forever grateful.
The gravity of our beings is purposeful, and when we listen to it…it's indescribable. Intentionally listening to that pull which brings us together has allowed us to experience joy, pleasure, pride, fulfillment, humor, and triumph.
We bring diverse expectations, needs, values, dreams, weaknesses, and strengths to the table. We are unique individuals who have chosen to share a life together and we choose again every day. Neither of us are perfect, and yet we are perfect for each other.
What has and will continue to keep our relationships strong? It's intentionality. Intentionally living our lives, intentionally choosing each other every day, intentionally loving one another. As we reflect on ten years of marriage, we believe that intentionality in all of these ways will help our marriage stay strong and grow:
Communication.  Intimacy. Trust. Humor. Sharing household tasks. Getaways without business or children. Daily exchanges (a meal, shared activity, a hug, a call, a touch, a note). Listening. Getaways with children.  Sharing common goals and interests. Growing together, yet giving each other space to grow without feeling insecure. Encouraging each other to have outside interests. Understanding. Providing one other a sense of belonging and assurances of commitment. Not controlling. Complimenting. Compromising. Never assuming. Date nights. Embracing each other's family and needs. Respecting  one another.  Empathy. Remembering for Richer or for Poorer and not putting material items in priority. Passionate encounters. Surprises. Consistency. Prayers.
It is known by the wisest that happiness in life is greatly affected by how successful we are in marriage. As a good exercise, let us always ask ourselves this question… "What do I bring to the relationship?" and check in to see if we are being intentional about our relationships.
What  else can we be intentional about in love?