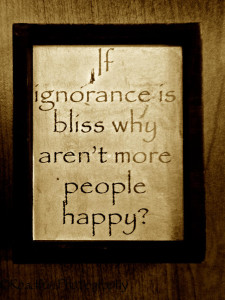 For the last four years, I have been on what I like to call a journey of awakening. Growing, emerging and doing my best to look at life with my eyes wide open. I have learned that being awake to your world can be invigorating, rewarding and fun…but it can also be difficult and painful…
One has to become uncomfortable enough with something to become willing to change it and when you finally do open yourself up to change, it triggers a multitude of ripples of transformation. Knowing more about yourself and the world can make you more aware but sometimes the data we gain isn't always welcome. We find out that we might have really liked a part of what it was that ultimately caused us pain. We learn that there may have been an emotional attachment to that particular behavior or food or object.
I now fully understand what "ignorance is bliss" means. Here is the beginning of a list changes or shifts in my life, some more recently than others. Future posts will go further in depth on the purpose, sacrifices and positive outcomes of each (feel free to comment if you are more interested in hearing about one, in particular)…
Remove clocks from bedroom
Don't buy food with partially hydrogenated oils/trans fats
Exercise regularly (yoga, classes, walks, run)
Avoid nitrates or nitrites in food
No decaf coffee (always regular and always use paper filter)

Watch less TV

Make wine
Read more
Cook more
Don't drink soda
Drink more soda water
Make more food from scratch
Make/eat fermented vegetables
Eat out less
Limit consumerism
Make baby food
Take exercise classes
Buy a watch with a heart rate monitor
Use a personal trainer
Stop buying cleaning products/use baking soda and vinegar
Quit smoking
Control portion sizes
Recycle
Write more
Do therapeutic work
Spend more time with friends and family
Grow food (or try my best)
Don't use antiperspirant
Limit refined sugar

Join book clubs and social groups

Transition to be a stay at home mom
Spend our monthly budget in cash
Pay off debt
Declutter
Use coconut oil
Create savings
Striving to master…
No yucky stuff in my beauty products or sunscreen
Buy the right organic foods
Composting
Say what I mean, mean what I say
Laundry soap and softener that is good for the environment
Finding a balance with my digital life
Many of these things, I truly loved for one reason or another but there is a specific reason for each of the intentional shifts listed here and I'll share more in future posts on many of them.
What have you changed in your life that makes you say, "ignorance really is bliss?"
Photo credit: Road Fun / Foter / CC BY-NC-ND