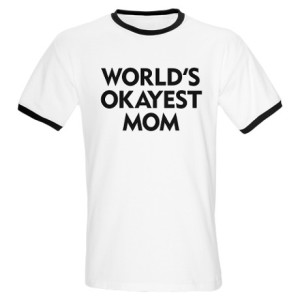 As moms and dads, of course we want the best for our kids. We want to be the best parent and provide the best learning experiences and the best fun and the best food and we want them to have the best friends and read the best books and be the best. We want our kids to have the best. lives. ever.
We invest a ridiculous amount of time, money and energy into our idea of what this "best" thing is and boy is it exhausting and depleting. I might even argue that at some times it's actually counterproductive. Now, don't get me wrong, sometimes I catch myself right there on the front lines in seeking preeminence in motherhood but more often than not I do draw back. And when I recognize this competitive and perfectionistic behavior I do what I can to correct myself.
Because, folks, it's not a competition. There is no finish line. And, by all means, there is no best. There is no such thing as perfection in human activity because, as humans, we are messy. And even if it was an actual competition, who are our competitors? Who are the judges? Our friends? I certainly hope not (or it might be time to evaluate relationships). Other parents, family? Only if we give them permission. What is the prize? In the competition of parenting…not only is there no judge, sadly, there is no prize. Last I checked,  in order to have a competition, you need a judge, a prize and competitors.
When we live in the world where we strive for perfection, we add unnecessary stress and inherit negative characteristics such as self-doubt, fear and worry. The toll of worry is both mental and physical. When we worry, we get sick more often, sleep less and often avoid certain activities which limits our potential, connections and opportunities for ourselves and our kiddos.
The good news? The desire to be best, the need for perfection, worry, self-doubt and fear ALL exist in our minds. In a recent blog post about parenting mindfully, I wrote about a book where I also learned this quote, "Your worst enemy cannot harm you as much as your own mind, unguarded. But once, mastered, no one can help you as much." The greatest gift we can give to ourselves and our children (and unfortunately-it ain't easy) is quieting our mind. If we believe we are okay, our kids will believe they are okay.
Todd Parr, who writes terrific children's books, is the author of The Okay Book and I love reading it my children. In it, it tells kids that it's okay to many different (and silly) things…short, tall, to wear two different socks, to have freckles, etc. If I were writing a similar book for mothers, one of the pages would say "it's okay to be okay." And not okay in the sense that "I'm just okay" or "I'm not good" but okay in the sense that "I don't have to be perfect."
So let's release this pressure we have on ourselves to be the best. Let's let others be happy during their ups without judging ourselves for not being there and lets give ourselves permission to have our downs without thinking that others are never where we are. Because, in the end, we are all on this real journey called life. We all experience the range of emotions that comes with parenting. And, geez, we all need each other.
Let's choose being present for our kids over being best.
P.S. Who is going to buy me this tshirt? 
Disclosure of Material Connection: Some of the links in the post above are "affiliate links." This means if you click on the link and purchase the item, I will receive an affiliate commission. Regardless, I only recommend products or services I use personally and believe will add value to my readers. I am disclosing this in accordance with the Federal Trade Commission's 16 CFR, Part 255: "Guides Concerning the Use of Endorsements and Testimonials in Advertising."