While enjoying a day at the Indianapolis Museum of Art, we stumbled across a thought-provoking outdoor exhibit called NOTICE: A Flock of Signs in the 100 Acres. The barrage of signs are described as 'deliberately perplex, misdirect, and even contradictory.' Well, that sounds a whole lot like life, don't you think?
As I watched my eight year old explore the signs, I wondered how (or if) he was processing the concepts that the signs seemed to be shouting at us. It was only for a split second, but let me warn you, there is something really quite moving about seeing your child right smack next to a sign that says 'TWO DIVERGENT PATHS' while you are standing in the woods (no matter how silly he is being).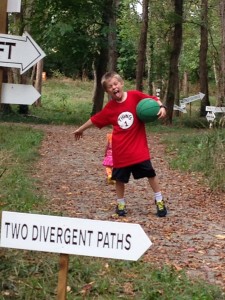 Later as I was reflecting about that moment and I pulled out Robert Frost's poem, The Road Not Taken. I began to think about the path I have chosen. I thought about the path my husband and I are choosing together. I thought about my children and the choices each will face on their journeys.
I began to wonder about what paths my kids will choose in this messy and beautiful world. Should I hope that they choose the road less traveled? Typical parenting worries visited me. How can I set them up for success? Should I or could I be doing more? If so, what?
And then I breathed. And I breathed again. And I found comfort in knowing that these children are loved more than stars love shooting. I believe that my unconditional love will guide me to guide them to make their own choices. And I will love them no matter which path they choose. After all, for them, this is their real journey called life. I'm so grateful to be a part of it. 
Two roads diverged in a wood…
Do you choose the road less traveled?