*This post contains affiliate links. I did not receive payment from eMeals or Groupon. I simply want to share my personal experiences and thoughts.*
I am touching base today to begin a progression of posts on digital tools that are helping to simplify our lives.
I love to cook and used to love the process of meal planning. Once our second child arrived, I have found it difficult to make the time that I used to ensuring our meals are filled with the types of food that we love and are made of our favorite ingredients. Even when I did have more time I struggled sometimes to find new ideas and especially different side dishes to match our main courses.
…and then I met eMeals! What attracted me most to this tool is that it generates my meals and shopping list for me (print or app). Also, I can delete the items I already have in my pantry, adding staples and other items to it, as needed.
Nearly six months ago, I purchased a livingsocial deal for eMeals. Without using a discount site, the service ranges from $5-$10 per month depending on the number of meal plans you prefer to have on hand and the number of months you purchase. If you purchase using a discount site you can save up to 65%!
It's a wonderfully simplified process and the idea is that you pick the meal plan based on the number of people you cook for, your eating style and grocery store. You can then access your seven day meal plan AND shopping list which are also emailed to you every week. The best part is that the meal plan is coordinated by grocery store aisle, what's in season, and many times, your grocery store's sale items!
I give eMeals  extra bonus points for the following reasons:
More than 50 meal plans to choose from including clean-eating and gluten free (our favorite is simple gourmet)
Side dishes are included with each meal
You can skip meals that you do not like (I've also used this function to skip pricey main dishes when my budget is tight)
There are options to add on five-day breakfast or lunch meal plans (I have been using the dinner plan and just added the lunch plan to our account)
They have a mobile phone app which allows you to view your meal plans, recipes and shopping list.

You can add your own items into their shopping list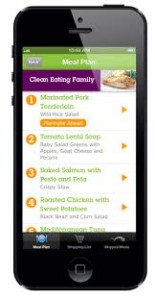 They give you an estimated total for the items you need to purchase
There is a Costco meal plan that is for TWO weeks, which is a fun experience.
What would I like to see improved?
I'd like to be able to change my menu plan more often. There are limitations with the amount of time between when you select a certain plan and when you change it to a new one. It's not an unreasonable time frame and if you email them they will change it for you.
It would also be helpful if they allowed you to select a more specific number of people you are cooking for. For our family, we selected 4-6 people since we have two adults and two children. One of them is a toddler and we end up with loads more sides than needed, however the 2-4 people selection would be too small.
While you can see the cost of your shopping list with the ingredients for the seven meals in your plan, you cannot see the totals or estimates for any additional items you add. Having a general idea of the cost of my grocery bill before I go into the store would not only be helpful in planning, it would also help me to even better stick with my budget.
Ultimately, eMeals has helped our family tremendously. We have used the clean-eating, gluten free, Costco, simple gourmet, Mediterranean and slow-cooker meal plans and have really enjoyed them all. Since I left my job, budgeting has been even more important than before. This tool has helped us stay within our grocery budget because we can look at the cost of our meals ahead of time and made adjustments as needed. And it's been fun! Anything that generates order and lists coupled with creativity and cooking is a win in my book!
If you are interested, here is an eMeals Groupon that is available for a very limited time!
Do share! What are your favorite meal-planning websites and apps?