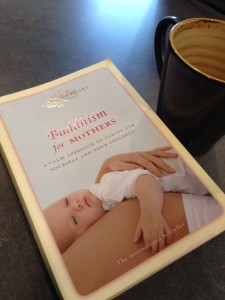 Have you read one parenting book after another yet feel overwhelmed with advice on discipline, potty training, sleep routines and food regimens? So many times the challenge with the books available to us is that they assume that we, as the moms, are wholly prepared to implement the advice given. But how can we be when we are tired, frustrated, overwhelmed, and unsure and cannot find a single moment of calm in our minds?
Sarah Napthali has found a much-needed niche in Buddhism for Mothers. Rather than add another parenting manual to the shelves,Napthali has written a book for mothers.  This book delivers a calm approach to caring for ourselves and our children. Her peaceful tone and use of Buddhism as a philosophy (rather than a religious dogma) provides us with a way to reconnect with our inner selves as well as methods to work towards being calmer and happier moms.
I most appreciate how Napthali focuses on caring for ourselves as a means to caring for our children. So often we do not give ourselves permission to be compassionate to ourselves, to care for or to nurture ourselves. The reality, however, is that if we do not know how to show compassion to ourselves, we cannot effectively do so to others.
This book is loaded with tools and resources for taking time for ourselves, managing emotions, creating calm, living with a partner and being present. For me, it was a helpful reminder that I have a choice every day and every moment and that I am ultimately in control of my emotional responses. I love how she describes emotions as visitors….that they do come over but will be leaving soon and we can choose how to greet them. This wisdom came at an essential time as a new stay at home mom. Rather than blaming the situation or circumstance, which is so easy to do, I can choose to be stressed and irritated or I can choose to be spacious and accepting. I can choose not to empower anger. I can be aware of tension building in my body and breathe or stretch to provide some calm even if I have only a few seconds. For me, it brought a new awareness to being with myself and my child.
Buddhism for Mothers discusses Buddhist teachings as applied to the real-life everyday challenges of bringing up children. Using Buddhist teachings and practices, Napthali shares ways to address day-to-day parenting challenges-calmly and with a minimum of anger, worry and negative thinking. For those interested in Buddhism, this book can provide a great overview for you; however, even if you are not interested in exploring Buddhism, it is still well-worthwhile to read this book. After all, aren't we all interested in being mindful and compassionate mothers? As a side, I think much of the content would be duly applicable to dads as well!
Take a peek; I vote that it will be a perspective-changer. One of my favorite takeaways from Napthali was to keep asking yourself, 'How can I best use the present moment?' As Buddha put it, "If you want to know what your future life will be like, look at your life right now."
What are some ways you practice being present?
Disclosure of Material Connection: Some of the links in the post above are "affiliate links." This means if you click on the link and purchase the item, I will receive an affiliate commission. Regardless, I only recommend products or services I use personally and believe will add value to my readers. I am disclosing this in accordance with the Federal Trade Commission's 16 CFR, Part 255: "Guides Concerning the Use of Endorsements and Testimonials in Advertising."