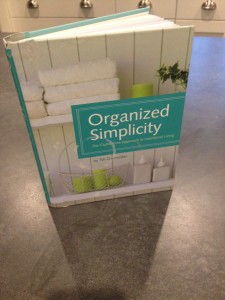 "Be content with what you have, rejoice in the way things are. When you realize there is nothing lacking, the whole world belongs to you." Lao Tzu
Just as we were preparing to embark on a lower-level remodel I came across Tsh Oxenrider's book, Organized Simplicity. It was yet another book that jumped off the shelf just when I needed it to. It is complete with the concepts, tools and resources that I needed to take a hard look at the "stuff" that filled my house. And not just look at it, but evaluate it with tender discernment and intentionality. Like many, we have spent years acquiring gadgets, toys, books, clothes and household goods. We believed that these items would make our lives easier, simpler, and fuller.
Years ago, we had fallen into the trap of 'the more you get, the more you want'. National Public Radio Reports that from 1950 to 2004, the average American home has doubled in size-what was once 983 square feed is now 2,349 square feet. And according to the U.S. Census Bureau, the average family was 3.67 members whereas now it is 2.62. Smaller families are now "needing" bigger homes. In Organized Simplicity, Tsh shares that "It's not just floor plans that are inflated; the average workload has increased as well…and there are no vacation laws in America. We are quickly becoming the most overworked culture in the history of the world." We work hard to buy things to fill our houses that we are very rarely in all because we are working so hard.
And our family had become a prime example: At one point, in the kitchen we had a quesadilla maker, a panini maker, a turbo cooker (and the fourteen attachments that came with it), rice cooker, waffle maker, coffee maker, french press, toaster, kitchen aid mixer, food processor, wok, pressure cooker, and slow cooker. In the laundry room we had a carpet cleaner, wood floor cleaner, roomba, regular vacuum, dirt devil vacuum and broom. Our simplification process has been through several iterations and we still have a ways to go. Four years ago we started to sell, give away or throw away the things that were not deemed useful. This was not easy, especially since my husband loves all things infomercial.  And like many, there was an emotional attachment to our things. But ultimately, we wanted to spend more time with people and less time cleaning and caring for things.
We thought we had done a fairly good job of simplifying. However, it wasn't until we had to literally pack up the entire downstairs of our home that we realized how many of our things were still not making life easier, simpler, and fuller. I followed the Organized Simplicity approach to clearing out the seven spaces that make up our lower level.
In part one of the book, Tsh takes you through a mental and psychological exercise of creating a family purpose statement which can serve as the foundation and filter for your process. I would imagine that some might really enjoy this process while others might skip straight to the de-cluttering process. She outlines the benefits of simple living, the barriers and how to overcome them (too much screen time, too much structured time for kids, and work). Similar to the concept I wrote about in an earlier blog post about busyness, Tsh says, "To put it bluntly, most people are too busy to live simply." She outlines home and financial management, broadly, while also sharing specific tools like a daily docket, a cleaning checklist, monthly calendars, grocery lists, budgets, project lists, etc.  All of those things are helpful and some of them did work for me, but for me, the real excitement began in part two.
Ten Days to a Simpler, More Organized Home. Just the sound of that makes me giddy. Without giving too much away, on the first day, you quickly move through every room in your home and make decisions about all of the easy stuff. You are given a checklist (yes, please!) of things you will need (boxes, trash bags, price tags, etc) and are charged with getting rid of the things you know you don't want around anymore. This was liberating! She tells you what to look at and what not to look at. On day two and beyond you begin moving systematically through every room in your home and are given a process to follow that helps you de-clutter, organize and clean your entire house (from cobwebs to baseboards).
Near the end of the book, she offers recipes for making your own cleaning supplies, inventory checklists and templates for tools to help with simple living. For me, this book provided a mind-shift. And like everything, it's a journey. Clutter still accumulates when we are not vigilant and we have to tackle it head on from time to time. Now that our kitchen remodel is complete and we have everything back where it belongs, we are feeling the pull do work this process again and to engage our children.
Joshua Becker, my favorite simplicity blogger says, "when we begin to consider the benefits of living with less (less debt, less stress, less cleaning), it begins to make sense why the statistics about simple living would hold true. Happiness is not found in owning as many possessions as possible; it's found living life consistent with your greatest passions." And I couldn't have said it better.
Do you need to simplify your life? What lessons have you learned if you did?