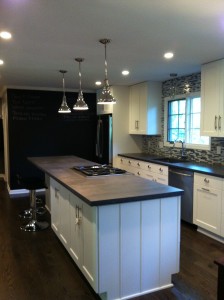 I've been asked by several friends and readers to write a blog post about the giant chalkboard wall in the kitchen. How did we do it? What do we use it for? How do we clean it?
When we renovated our kitchen one of the many ideas that our contractor Danny, of Daniel Treadway Construction, suggested was a chalkboard wall. Of the hundreds of decisions we had to make about cabinets, back splash, pantry design, flooring, and counters, we spent a considerable amount of time pondering this one, in particular.
What we loved about the idea is that our family would have a creative outlet, a place to communicate and express ourselves. We loved that it could change based on the needs of our family. We imagined beer and wine tastings with the lists on the wall, dinner parties where we highlighted the menu.
We were concerned, however, about how it would look…an entire black wall? Would it be difficult to clean? Do we have a picture on it? Would the chalk dust leave a giant mess? Ultimately, we decided to go for it. After all, we justified that if we didn't like it-we could just paint over it (although our painter wasn't too thrilled about the concept of painting over black).
Bottom line…we absolutely love it and so does everyone who visits our kitchen. In fact, of all of the new and fun facets of our completely renovated downstairs, the $15 chalkboard wall gets, by far, the most attention.
Our wall serves many functions and changes based on important events that are happening in our household. It boasts birthday celebrations…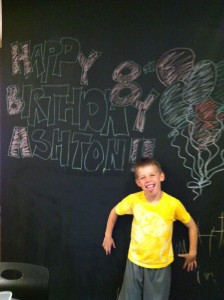 We often write our weekend to-do lists on it (can you tell which items the kids added to the list?)…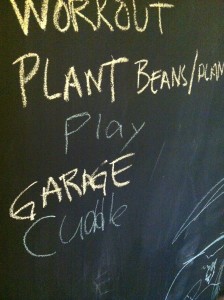 We have used it to map out our summer plans….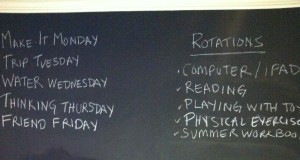 And as a wondering wall to keep our most important questions to later research and find answers. Or more accurately, to keep track of many things I do not know the answers to…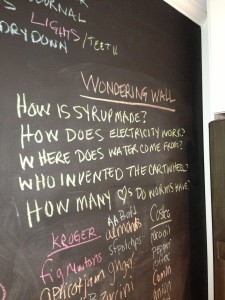 And, most commonly, we use it as communication hub… (oh, and that wooden thing at the end of the counter is a learning tower-for our eighteen-month old to stand counter height with us).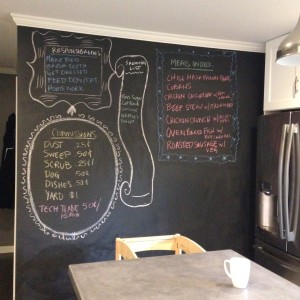 At the top, we write daily responsibilities for our eight-year old. These are things he is solely responsible for doing…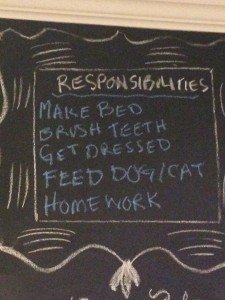 And then there are commissions…opportunities for him to earn money. He just puts a tally by each completed item and paydays are on Friday. He is allowed 30 minutes of tech time (ipad, computer or tv) each day and may purchase 15 minute increments for 50 cents.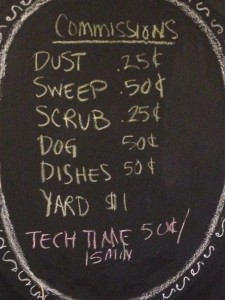 In the middle we keep our shopping list (everyone is to write down the item they use the last of). I typically transfer it to a shopping list that is arranged by the aisles of the supermarket but someone suggested taking a picture of the list on the chalkboard, which I think is a brilliant idea.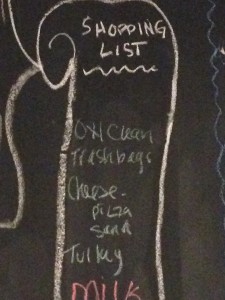 And finally, a list of "Meals on Deck". This is a list of all of the meals that I have planned out for the week and have items in the pantry and fridge to make.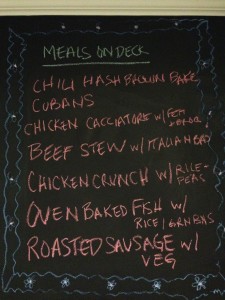 The bottom is left open for the kids to write spelling words, math problems and to draw their favorite creations. I keep a bowl of chalk on the counter for them and clean-up is much better than I anticipated.
I've been asked numerous times, "What is the best way to restore a chalkboard wall back to it's original luster?" The answer will blow you away…good old fashioned Coca-cola!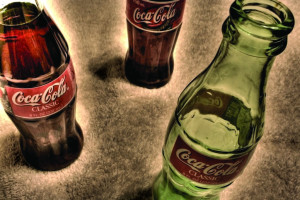 We don't drink coke but will often find it on our shopping list so that we can clean our wall! It removes all of the chalk and dust and leaves it restored to it's original shiny black finish. As you can see from the dust and streaks, it's due for a good cleaning…
Pinterest is filled with multitudes of creative uses for chalkboard walls. If you don't want to do a full wall, you can frame a section of one or paint a framed magnet board. For us, the chalkboard wall has been an integral part of making our house a home. I look forward to seeing what else it may become for us.
Do you have a chalkboard or a chalk wall in your home? What purpose does it serve for you?
Coke Photo Credit: Lawrence Whittemore / Foter.com / CC BY-NC-ND