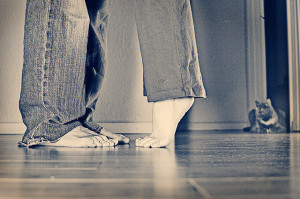 The other day, my husband said what has perhaps become one of the most endearing compliments I have ever received. I was complaining of needing a pedicure and going on and on about how my feet were tough and needed a fresh coat of nail polish, he interrupted me, "Your feet are gorgeous… They are summer feet and I like them just the way they are." This was particularly meaningful because I could really feel that he truly meant what he said and even more so because the underlying compliment had so much depth behind it.
You see, a year ago today, these feet would didn't see the outside of a dress shoe or sandal because I was working full time. They always looked fresh because I treated myself to pedicures every so often. Now, as a stay at home mom, they are barefoot most of the day. They are dirty and tough and scuffed from playing with my boys and taking care of our home and garden.
For me, it was my husband's way of saying, "I love having you home" and my worn feet seemed to be a symbol of that. It was his way of saying, "I love the sacrifices you have made" with a deep recognition that pedicures are not the only luxury that have been stricken from the budget. For me, it was an overwhelming compliment. One that helped me to look a tad bit differently at my feet and my life and which deepened my already overpowering gratitude for being able to be at home right now.
What's a meaningful compliment you have received from the one you love?
Photo credit: Corie Howell / Foter / CC BY-NC-ND